Reported by
Lee Seung-ah, 03/04/14,

www.Korea.net
There is a man from foreign lands who has lived in Korea since the 1950s. He remembers the nation when it was in turmoil and he sees it now with its GDP per capita of over USD 25,000. Arriving in the nation as a Catholic priest, he is an exemplar of generous love and sacrifice. His name is P. J. McGlinchey and he hails from Ireland. Since being assigned to Korea in 1954, he has spent 60 years of his life on Jejudo Island, sharing all the joys and sorrows of the people there. He goes by the Korean name of Yim Pi-jae, a moniker derived from the first letter of each of his English names: Yim for the "M" in McGlinchey, pi for the "P" in Patrick and jae for the "J" in James.
When the then-25-year-old Irishman set foot on Jeju soil, he could see nothing around him but a barren wasteland and desperate, starving people. In an effort to address the poverty, he began by reclaiming some grazing land near Geumak-ri in Hallimeup Town. These were the first steps in establishing Isidore Farm. The priest helped the people learn about agriculture, improve their pastures and rear livestock, laying the foundation for a self-sustainable community. He organized a local chapter of the 4H Club, an agricultural club for teenagers, and established a branch of the Credit Union of Jeju.
Nowadays, the small farm in Geumak-ri has become Isidore Farm Jeju Korea. Headquartered in Hallimeup Town, the farm cultivates 900 dairy cows, 350 heads of beef and is home to 100 race horses. Its fields cover 165,000 square meters of grassland and the farm has long been the representative dairy farm on Jeju.
Father Yim says today he is more comfortable on Jejudo Island than he would be in his hometown in Europe.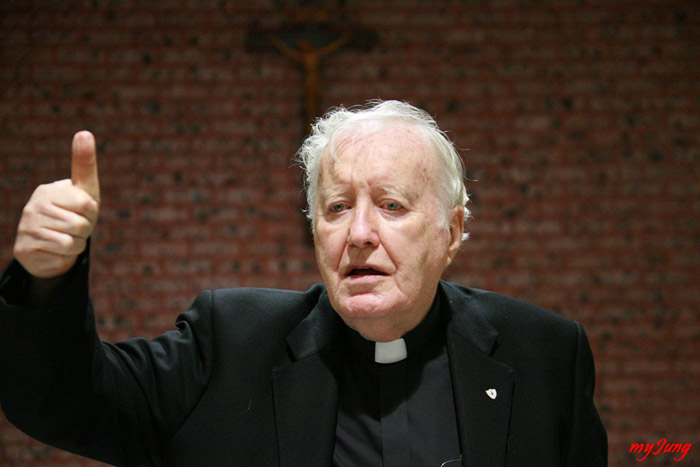 Korea.net recently sat down with Father Yim to learn more about the 60-year-long path he has walked on Jejudo Island, from the very first moment he arrived until today.
- What led you to come to this island in the midst of war?
"I was ordained as a priest in December 1951 and was placed in Korea. Korea was at war at the time. Through the radio and newspapers, there was nothing I could learn about the country, only how many people were dying out there. I was frightened. I thought I might die within a month."
It was a long journey for him to arrive in Korea. He had to make stop-overs and transfers a number of times, from Ireland to New York, from there to San Francisco and again to Yokohama in Japan. Finally on April 11, 1953, he set foot in Busan. He has a vivid memory of his first impression of the nation, struggling amidst war.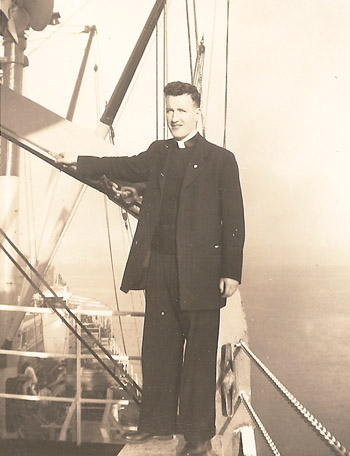 "Busan was swarmed with refugees from all over the country. Whenever they had a chance to see a foreigner, they reached out their hands and hung around the person. Streets were packed with people looking for a job. All the neighborhoods were densely packed, with nearly torn down houses covered by straw bags and pieces of wood, boarded up to make a roof."
After about a year in Busan, Father Yim was assigned to Jejudo Island in April 1954. When he arrived on Jejudo, he found it absolutely empty. There was no church and no residence for the clergy. There were 25 people on Jejudo who had converted to Catholicism.
First, Father Yim got comfortable with the many similarities that Jejudo and Ireland share. Both islands have strong winds, many stone walls and a similar shape to their thatched houses. Weddings, funeral ceremonies and traditions were quite similar to each other. One thing was very much different, however. Jejudo Island had no livestock industry. He was shocked to see people raising hogs in their outhouses, an aspect of the island's agricultural traditions. Growing up in the countryside himself, and being familiar with rearing livestock, Father Yim thought he had found the answer to feeding people and helping them to survive.
New dreams followed by a succession of failures
Father Yim started persuading people on the island, but it wasn't easy. "No matter how hard I tried, I came face to face with the opposition of the older generations. 'No,' is the only word I heard from most of them for around five years. They repeated over and over again that the Japanese had already tried that and it had failed."
The priest turned to the younger generation, aged between 16 and 20, and encouraged them to join a new program, the 4H Club. Short for, "Head, Heart, Health and Hands," the global youth development program encourages young people to learn how to establish a self-reliant social structure, focusing on agriculture and farming. As part of the club's activities, the youth were given piglets and chicks for free. The project seems to have failed because it was run on a small scale and it was hard to get the support of the older generations.
- How did the 4H project develop?
"After going through so many failures and trying so many new ideas, I decided to raise hogs in the mountains around Geumak-ri. I thought it would be amazing if we could reclaim the middle of Hallasan Mountain and raise livestock in the great pasturelands there. There were some army barracks there, once occupied by the Japanese army, equipped with some useful facilities. I helped to make a roof in the barracks using straw bags and plastics, and brought in the animals."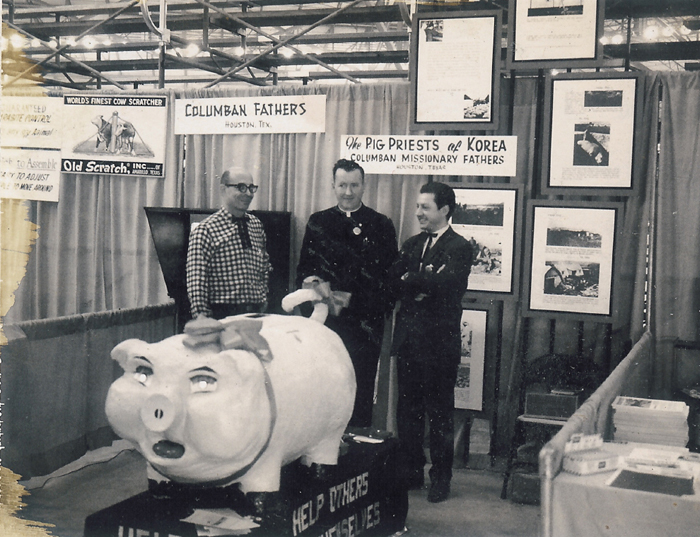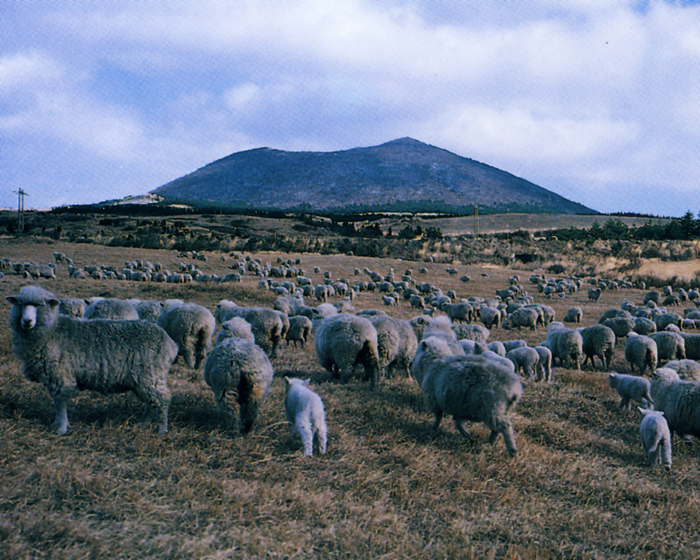 In November 1961, the farm received its official name: Isidore. It was named after the Catholic St. Isidore, from Spain, who had been a farmer in the 12th century. The Isidore Farm, with its roots in 4H projects, is today considered to have planted the seed of livestock development and dairy farming on Jejudo Island.
- Have there been any inspiring moments or specific incidents you've experienced while running the farm?
"I thought true love for God should be shown through practice, not through words or text. Helping others in trouble is one of the greatest ways to spread his love. During that time, the people were in urgent need of bread and a way to survive, rather than missionary work."
- Today, Isidore Farm has grown to include a number of other facilities, including a nursing home, a church, a day care center, a monastery and a hospice. It must have required huge efforts and great passion to build all this. Why were you ever so attracted to it?
"I have strong faith that everything was already planned. At the beginning stages of the 4H project, we decided to build a tiny office half way up the mountainside. We were taking care of an old lady who was suffering from malnutrition at the time, and it was the opportunity to start another social-oriented business, a nursing home.
"I always had a sense of mission to help others. It is the right thing to do, to meet the needs of the time. I focused more on creating jobs and organizing a self-reliant social structure during the early years. Now, I dedicate more energy and effort to helping vulnerable members of society."
- You seem to have had many experiences where you started a business and then it subsequently failed. Didn't you want to give up at any time?
"It is true that I encountered many hardships. Sometimes I made mistakes and wrong decisions. At many moments, I found myself having a very shallow knowledge about and understanding of Korean culture. I have had first-hand experience of being betrayed by someone I trusted. However, I never wanted to give up. First of all, I believe everything I've done was planned by God, not by me.
"Secondly, I was deeply moved by the 4H members who shared all the joys and sorrows with me. Were it not for them, I would not have been able to make it. They were always full of joy and hope. They started work early every morning and finished late at night, but never spoke a word of complaint. They encouraged and built up each other. They seemed to have enjoyed cooperation. I always wondered how they could be so energetic and passionate. Most of the members were determined to throw their whole lives into the development of the Isidores Farm. Being with these people, how could I have had any negative thoughts?"
Father Yim's efforts to build a self-sufficient economy have never ceased. One of his greatest contributions was the launch of the island's first credit union, giving people a financing option that bypassed the usurious private loans.
For young women especially, who had to leave the island to seek employment, Father Yim started a business making hand-woven wool fabric. He invited two nuns, specialized in weaving, from Ireland to transfer their techniques and know-how to the Jejudo women. At its peak, the fabric factory had over 1,300 employees and produced high-quality wool.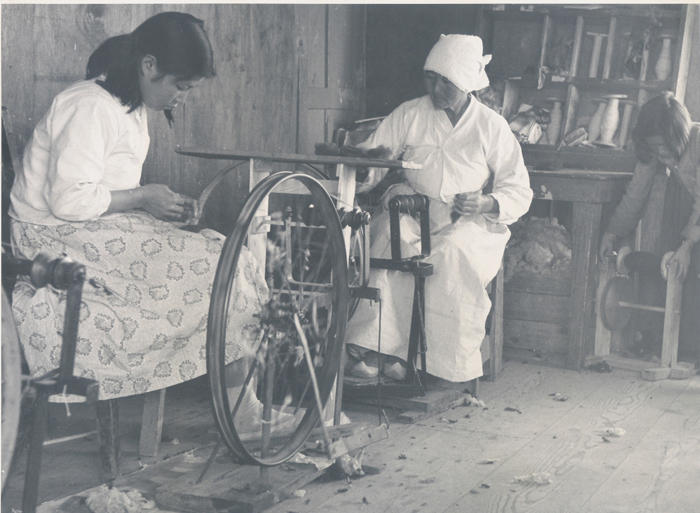 - A great number of people have been impressed by your work. Do you remember anyone in particular?
"I will never forget the original 4H members. Among them is Shin Bu-sam, now 73 and head of the two largest swine farms on Jejudo Island. When I first saw him, he was in his teens. Due to his family circumstances, he had to leave school and started work early on. He is one of the members who were given a hog and began a livestock business.
"The livestock industry got a green light during the 1960s and 1970s, but in the 1980s it soon declined due to overproduction. Isidore Farm decided to conclude its hog business at that time and gave out its remaining animals to other local farmers, including Shin.
"In the olden days, I'd encourage them by saying that, 'If you run your business well, within ten years you'll be able to drive a car, just like in a foreign country.' Now, when I repeat that to Shin, he laughs. Shin said to me, 'How could a priest lie?' Today, Shim's driving a Kia and has 4,500 hogs on his farm."
Father Yim's life on Jejudo Island has already surpassed 60 years. He must have encountered many people from various backgrounds and experienced many challenges and failures.
- Have you ever fallen homesick or wanted to leave?
"Not at all. When I was young, I had too many things to do all at once. I had no time to have any feeling of homesickness. Now, I've become more comfortable with Korea, a place where I've spent the majority of my life. Jejudo Island is just my hometown, now."
- I heard you have one final plan for the hospice. Please tell us more about your plans there.
"Now that I've stepped down from day to day duties, I can enjoy my life at a slower pace. I would like to see a successful hospice facility. In many foreign countries, interest has picked up in hospices as the population has aged. It is such a pity that Korea has no such specific concept. It is important to think about our attitude toward patients who are preparing for death.
"We launched it in 2007, and since then the hospice facility has provided living space for patients who cannot expect any better treatment elsewhere. We run it using the profits from the feed factory and horse racing businesses. We never receive any payment from the patients. I would like to bring to the public's attention the dignity of mankind, where people should be equally well-treated until their passing."
- What do you think about your host country's people and culture, as seen through the past 60 years?
"The people of Jejudo Island are just amazing. They are very generous. They always shared eggs with me, even when they were starving.
"I will never forget the time when we constructed a church. We had no timber, no wood and nothing to build with. One day, a large ship, having hit an underwater rock, swept up onto the shore of the island. As it happened, the ship's captain was Irish. He told us to use the timber of his ship for the church.
"There was enough wood, but the problem was that there weren't any laborers. At that time, there were only 25 Catholics on the island.
"So, with a heavy heart, the next morning I went to where the vessel was beached without any real plan in my head. When I arrived, I couldn't believe my eyes. There were around 400 people, waiting to carry the timber. They said that they couldn't just sit back and watch the priest go through such a hardship on his own. Most of them were not Catholics. To this day, I am still not clear how they rolled up their sleeves and got to work that in the early dawn of that day, but I am deeply moved by their behavior. That became a motif for me and for the way we would run activities to help the people who lived around us."
- Please give Korea.net readers a final message.
"Please love each other and show it through your actions, not your words."
(All photos courtesy of Isidore Farm)
By Lee Seung-ah
Korea.net Staff Writer
slee27@korea.kr
Email from Kyung Hwa Lee