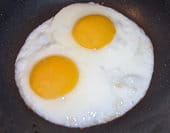 I was on a weekend trip with some friends recently and one of my friends was cooking breakfast for the whole group. I went over to see what he was cooking and saw he was getting ready to make a big batch of eggs.
Well, to my shock and horror, I noticed that he was cracking the eggs open and screening the egg whites into a bowl and throwing out the egg yolks. I asked him why the heck he was throwing out the egg yolks, and he replied something like this...
"because I thought the egg yolks were terrible for you...that's where all the nasty fat and cholesterol is".
And I replied, "you mean that's where all of the

nutrition

is!"
Click here to see the whole article about Egg Yorks
Email from Se Jung Kim